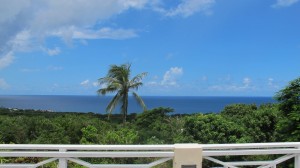 THE VIEW FROM ESTATE BELVEDERE
Last August, my husband and I visited St. Croix for the first time to do some diving and to visit my cousin. It is a paradise, even in the "off" summer season. It's humid, but the air is sweet and soft and the ocean breezes are ever-present. It's hot, but the pace is leisurely. The roads are iffy, but the radio's got plenty of old-style reggae on it. And the land is lusciously green and the water is turquoisey blue and the clouds put on a show across the wide sky. It is beautiful, so beautiful that the pictures of it don't look real.
We spent about a week diving, snorkeling and boating in the warm Caribbean waters, and exploring the island. That's when we could motivate ourselves to leave the lush comforts of Estate Belvedere. The estate is a former sugar plantation that has been beautifully restored and offers quiet and comfort, and gorgeous views of the sea.
One day we went diving and snorkeling with Perry (my cousin) and Chad Sheraw, who run Estate Belvedere with the same relaxed confidence that they have in their diving (both are certified as dive instructors). I felt like I was in good hands, even though I got dive certified just a few months before, and this was only my second dive trip. We explored the canyons at Salt River, and Chad and I saw a blacktip shark. Chad spotted it, tapped my arm, pointed off to our right, and then placed his hand perpendicularly against his forehead, like a kid playing "shark" in the swimming pool. The shark was maybe 50 feet away from us, and turned and swam in the other direction. Wow!
Note to potential travelers: rent a Jeep in St. Croix. The stone facade behind the Jeep is a remnant of a wall from the sugar plantation that once stood here.
We rented a snazzy red Jeep for the week. When I was making the travel arrangements, I thought I was being kind of silly by choosing this Jeep instead of a normal econo-rental. However, now I understand that parts of the island would have been impassable without it.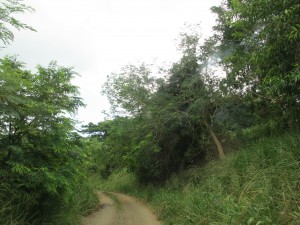 RAINFOREST ROAD
One afternoon, we went exploring on the other side of the island, around Fredericksted, and found an organic farm in the mountainous rainforest. We were in search of vegetables for the dinner party we had planned that night at the estate, so we followed the road as it narrowed and went from paved, to gravel, to dirt, finally winding its way to the Ridge to Reef Farm. They were packing up and preparing for a farmers market in Frederiksted when we arrived. They did have a few things to sell us, though: we took home bananas picked right then, and some homemade jam.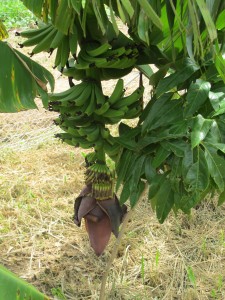 BANANAS RIPENING AT RIDGE TO REEF FARM
The porch at Ridge to Reef's Community House
We had to wait a little while for someone to help us with our purchases. We walked around the farm, and then kicked back here on the porch. Not a bad way to spend some time. That evening, Chad made dessert. He chopped up the bananas and browned them quickly in a skillet, tossing in some Cruzan spiced rum and lighting the whole thing on fire! Delicious.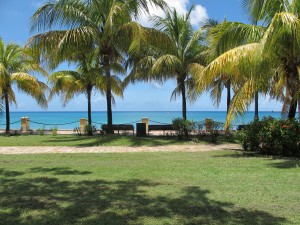 THE VIEW FROM FREDERICKSTED
Perry told me her sister once asked her when she was planning on moving back to the States. "Never!" Perry said. She lives in paradise. Why would she go back?
Experience Estate Belvedere
St. Croix Activities