Villa Accomodations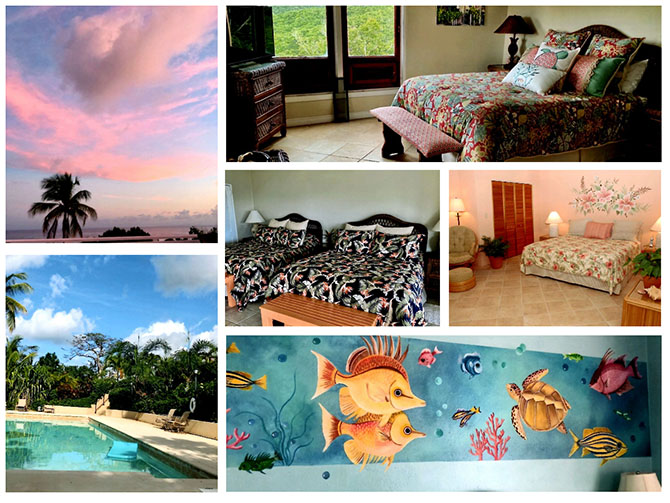 Three air-conditioned bedroom/bath suites on two levels of the mill (named Sunrise, Hibiscus and Jungle Suites) offer luxurious privacy. Outside, a staircase winds up and around the sugar mill to its very top and to spectacular long-distance vistas in every direction. A handpainted mural maps the islands you see in the distance from this high vantage point. Off to one side of the Estate are old plantation ruins of long ago where vivid bougainvillea now bloom; part of this area has been made into a lovely patio for conversation or quiet reading, where cool tradewinds prevail.
Estate Belvedere's extensive and beautifully-preserved ruins include a classic Caribbean welcoming arms staircase and graceful arches framing the lush gardens, providing a fascinating look at sturdy Danish stonework done over 200 years ago. Accessed via one of the old stone staircases is the Tower Building, a modern two-story pavilion with two very spacious, air-conditioned bedroom/bath suites (Ocean and Coral Suites), each suite with a large living area, a full kitchen and two queen beds. These colorful and completely equipped suites are perfect for family privacy, and further enhance the child-friendly nature of the Estate.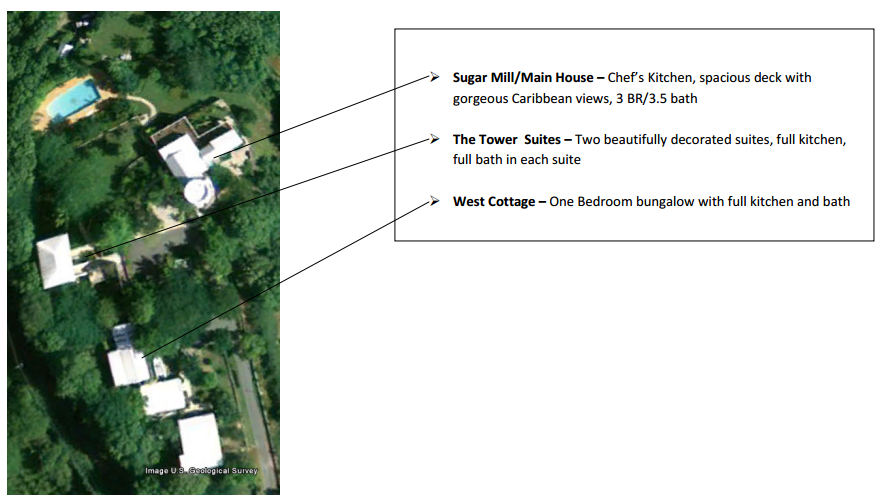 Just beyond is the Garden Cottage, built as a new extension of the ruins; its entry patio incorporates some of the old stone rubble walls. This air-conditioned and very private suite also offers a sitting room with a small kitchen and a queen bedroom. Chad, the Estate's caretaker, lives close to the entrance in a removed, separate cottage. Walkways connect the buildings and the ruins, meandering under tall, shady trees, past fruit trees and glorious tropical gardens fenced by elegant wrought iron, displaying riots of vivid flowers and exotic plants, and through green manicured lawns.
The Pool House and the generous swimming pool are situated beyond the sugar mill and Tower Building; the pool area and surrounding lawn are screened by trees and shrubbery for complete privacy. Estate Belvedere is a masterpiece, an important bookmark in St. Croix's colorful history. Every modern convenience and amenity is here, the decor is today's classic Caribbean, but the spirit of early island days prevails. A perfect place for families or for building more memories with close friends, time spent within this elegant Estate will be relished and remembered by all fortunate enough to find this very special property.
Experience Estate Belvedere
St. Croix Activities