Browsing articles in "Blog"
St. Croix, US Virgin Islands is known for a lot of things – amazing beaches, great weather, captivating historical sites and most of all mouth-watering delicacies. It's not an overstatement if we say that St. Croix restaurants can give any other restaurants all over the world a run for their money. One of the most popular here is eat @ cane bay.

Eat at cane bay, as the name suggests, is located at the Cane Bay Beach of Frederiksted. As a follow up to their very successful Bacchus Restaurant on St. Croix, owners Frank and Katherine Pugliese opened eat @ cane bay in 2009. The open-air restaurant, open every Wednesday to Sunday from 11am – 9pm (except Sunday, they close at 4pm), serves delectable appetizers, seafood, steaks, sandwiches, and their famous build your own burger.
Now allow me to rave about some of their best creations. Their pulled pork sandwich is to die for. It's made North Carolina style and smoked and slow roasted on a brioche bun. At around 5:30pm or so, they get a little jazzed up with food shots and fresh seafood and hand-cut steaks.
What, you ask, are food shots? It's a one bite appetizer. This spoonful of yummy goodness is placed in a Chinese spoon and prepared by their local chefs every night. What's so exciting about them is they create new shots nightly, often using Mahi, Wahoo, Tuna or another local, fresh fish! How cool is that?
As for seafood, you are sure to expect nothing but the best and the freshest fish, shrimp, or mussel to be served at your table. Of course, what better goes with good food than cool drinks? Eat serves an array of local and imported beers and special cocktails. Try them!
Perhaps the most famous menu item here is not written on their menu board per se. It is written in the minds of their loyal customers. Frank and Katherine and the rest of their chefs gave the power to their customers on what would they like to eat, how they want it and what's it in. This is the heart and soul behind B.Y.O.B. or simply, build-your-own-burger. Customers are given a chance to create their own meal through a list of ingredients they can use. And the guys at eat @ cane bay loved their customer's creations  so much they put up burger of the month (b.o.t.m), And just recently,  they let their loyal customers choose the burger of the year.
This fabulous restaurant offers regular entertainment, hosts yoga classes as well as serves as a venue for amazing reggae concerts and fabulous weddings too. Guests can dine here and have a sit down meal, family style sharing or full buffet. They can also open up the bar and serve liquors and wines for your guests. Check their sample menu here.
For those who'd like to let their friends and families enjoy the delectable meals of eat at cane bay at the comfort of their homes or in another venue, they can! They offer affordable catering services to anywhere in the St. Croix area, including villas like Estate Belvedere. You can check eat @ cane bay's catering menu list here.
So whether you're a tourist or a local, eat at cane bay is the best restaurant in Frederiksted, St. Croix to have a good time with happy people and experience great vibes.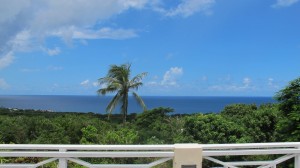 THE VIEW FROM ESTATE BELVEDERE
Last August, my husband and I visited St. Croix for the first time to do some diving and to visit my cousin. It is a paradise, even in the "off" summer season. It's humid, but the air is sweet and soft and the ocean breezes are ever-present. It's hot, but the pace is leisurely. The roads are iffy, but the radio's got plenty of old-style reggae on it. And the land is lusciously green and the water is turquoisey blue and the clouds put on a show across the wide sky. It is beautiful, so beautiful that the pictures of it don't look real.
We spent about a week diving, snorkeling and boating in the warm Caribbean waters, and exploring the island. That's when we could motivate ourselves to leave the lush comforts of Estate Belvedere. The estate is a former sugar plantation that has been beautifully restored and offers quiet and comfort, and gorgeous views of the sea.
One day we went diving and snorkeling with Perry (my cousin) and Chad Sheraw, who run Estate Belvedere with the same relaxed confidence that they have in their diving (both are certified as dive instructors). I felt like I was in good hands, even though I got dive certified just a few months before, and this was only my second dive trip. We explored the canyons at Salt River, and Chad and I saw a blacktip shark. Chad spotted it, tapped my arm, pointed off to our right, and then placed his hand perpendicularly against his forehead, like a kid playing "shark" in the swimming pool. The shark was maybe 50 feet away from us, and turned and swam in the other direction. Wow!
Note to potential travelers: rent a Jeep in St. Croix. The stone facade behind the Jeep is a remnant of a wall from the sugar plantation that once stood here.
We rented a snazzy red Jeep for the week. When I was making the travel arrangements, I thought I was being kind of silly by choosing this Jeep instead of a normal econo-rental. However, now I understand that parts of the island would have been impassable without it.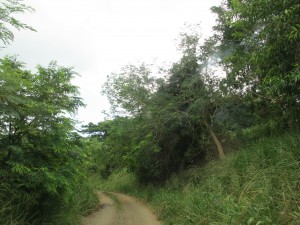 RAINFOREST ROAD
One afternoon, we went exploring on the other side of the island, around Fredericksted, and found an organic farm in the mountainous rainforest. We were in search of vegetables for the dinner party we had planned that night at the estate, so we followed the road as it narrowed and went from paved, to gravel, to dirt, finally winding its way to the Ridge to Reef Farm. They were packing up and preparing for a farmers market in Frederiksted when we arrived. They did have a few things to sell us, though: we took home bananas picked right then, and some homemade jam.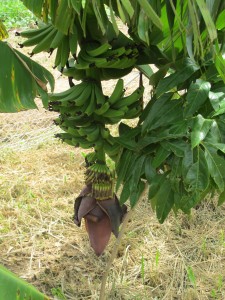 BANANAS RIPENING AT RIDGE TO REEF FARM
The porch at Ridge to Reef's Community House
We had to wait a little while for someone to help us with our purchases. We walked around the farm, and then kicked back here on the porch. Not a bad way to spend some time. That evening, Chad made dessert. He chopped up the bananas and browned them quickly in a skillet, tossing in some Cruzan spiced rum and lighting the whole thing on fire! Delicious.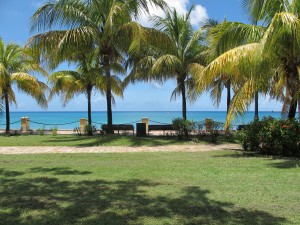 THE VIEW FROM FREDERICKSTED
Perry told me her sister once asked her when she was planning on moving back to the States. "Never!" Perry said. She lives in paradise. Why would she go back?
As the weather begins to turn chilly in the northern climes, we are thrilled to welcome weather of perfection here at Estate Belvedere.  "Season" as it is known throughout the Caribbean is basically Thanksgiving through Easter and the days are filled with warm sun and gentle tradewinds.  The millhouse deck and top of the mill are delightful spaces to enjoy the best of the best weather anywhere on earth.  Imagine yourself atop an historic Danish Sugar mill, a Cruzan rum and coke or your favorite libation in hand, eyes feasting on vivid Caribbean colors — the azure sea, the bluest sky imaginable, verdant green hills.  Imagine that and you are here, with us at Estate Belvedere.  Make that vision a reality this year.  Book your stay online or contact us to explore your options!
Experience Estate Belvedere
St. Croix Activities